Buy Now
Sid Meier's Civilization VI: Vietnam & Kublai Khan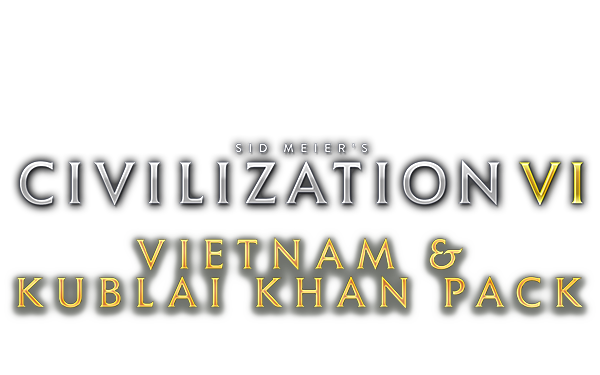 This new content pack introduces Bà Triệu as the leader of Vietnam and Kublai Khan as an alternate leader of either China or Mongolia.
Includes the Vietnam civilization with Bà Triệu, the Voi Chiến unique unit, and the Thành unique building.
Civ Unique Ability: Vietnam's unique ability is "Nine Dragon River Delta." All land specialty districts can only be built on Rainforest, Marsh, or Woods tiles. Buildings on each type of tile receive either additional Science, Production, or Culture. This ability also allows Woods to be planted with the Medieval Faires civic.
Leader Unique Ability: Bà Triệu's unique ability, "Drive Out the Aggressors," provides additional Combat Strength for units fighting in Rainforest, Marsh, or Woods tiles; this bonus is further increased for tiles owned by Vietnam. Beginning a turn in Rainforest, Marsh, or Woods also provides additional Movement, which is also further increased for tiles owned by Vietnam.
Unique Unit: Vietnam features the unique Medieval era ranged unit, the Voi Chiến . This unit can move after attacking and has additional Movement. It is more expensive than the Crossbowman unit it replaces, but is stronger when defending and has greater sight.
Unique District: The Thanh unique district offers additional Culture for each adjacent district. Once Flight is researched, the district generates Tourism equal to its Culture output. It does not require Population and is cheaper to build than the Encampment district it replaces.
Released on 01/28/21
Strategy/Simulation, Expansion/DLC
Single-Player & Multiplayer
| | Mac | Linux |
| --- | --- | --- |
| English | | |
| French | | |
| Italian | | |
| German | | |
| Brazilian Portuguese | | |
| Polish | | |
| Traditional Chinese | | |
| Korean | | |
| Japanese | | |
| Russian | | |
| Simplified Chinese | | |
| Spanish | | |
©2021 Take-Two Interactive Software and its subsidiaries. Sid Meier's Civilization, Civilization, Civ, 2K, Firaxis Games, Take-Two Interactive Software and their respective logos are all trademarks of Take-Two Interactive Software, Inc. All other marks and trademarks are the property of their respective owners. All rights reserved.